Main Page
From Paulsen Laboratory
Paulsen lab wiki,

Metagenomics, genome sequencing, bioinformatics and functional genomics
Introduction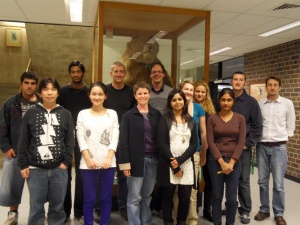 Welcome to the Paulsen lab. wiki. This site is a collection of information on Prof. Paulsen's research group at Macquarie University.
The Paulsen Lab focuses on understanding microbial physiology and evolution through the application of "big picture" or global approaches such as genome sequencing, metagenomics, bioinformatics, microarrays and functional genomics. Currently our research interests are focused in two broad areas:
Genome diversity, lateral gene transfer, and niche adaptation
Systems Biology analysis of membrane transport and metabolism
For more information on specific projects, people, databases, and activities of the Paulsen Lab please follow the links provided.
Recent Updates
Contact Us
Distinguished Professor Ian Paulsen
Department of Chemistry and Biomolecular Sciences
Macquarie University
Sydney, NSW, Australia, 2109

Email: ian.paulsen at mq.edu.au